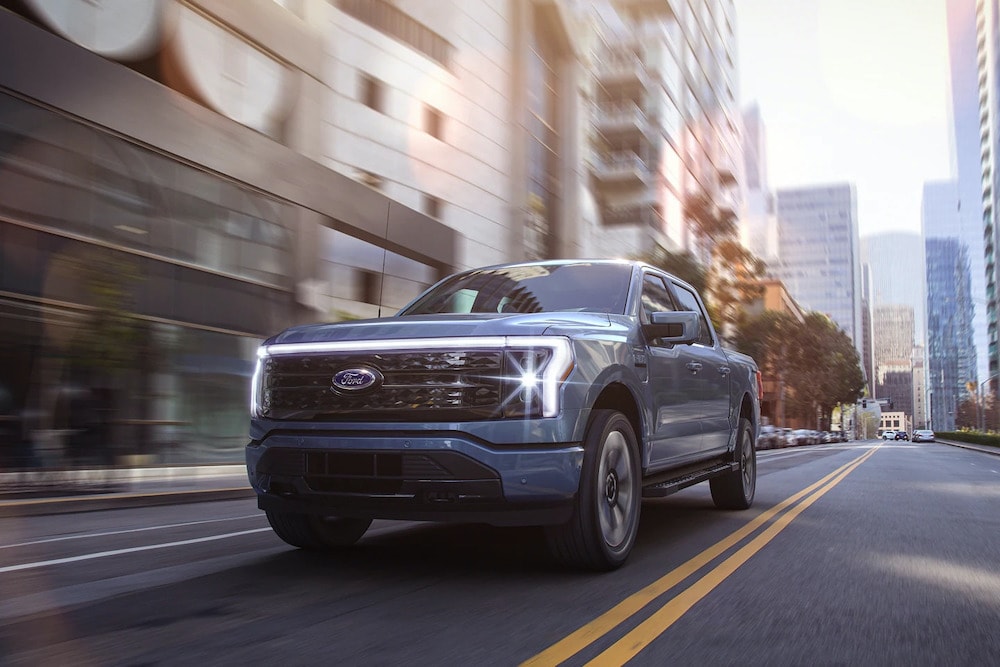 Stepping into a realm like never before, the 2022 Ford F-150 Lightning serves to be the truck of the future as an all-electric pickup truck. As one of the most popular trucks in the market, an electrified Ford F-150 is a monumental you do not want to miss out on. 
Here at Legacy Ford in Corbin, we provide our drivers with the details on the 2022 Ford F-150 Lightning from its design, performance levels, and latest innovative features. Learn more and reserve your Ford F-150 Lightning today!
Reserve Your 2022 Ford F-150 Lightning
What Are the New Features of the 2022 Ford F-150 Lightning?
The 2022 Ford F-150 charges into the future like never before with an all-new set of features to enhance your driving performance. The new features expand your definition of what a truck can be and do. Whether you need a powered towing capacity, advanced infotainment system, or generate power to your home, the electric F-150 Lightning creates an experience like no other. 
Electrified Performance 
The 2022 Ford F-150 Lightning provides Hemet drivers with a standard EPA-estimated range of 230 miles or upgradable 300 miles. Producing up to 563 horsepower and 775-pound feet of near-instantaneous torque, the electrified Ford pickup truck is no stranger to efficient power. 
Depending on the trim level chosen, the maximum 2,000 pounds of payload and 10,000-pound towing capacity offer new level capabilities to finish your blue-collared jobs with ease and stays true to the 'Built Ford Tough" mantra.
Redefining Capabilities
As a truck of the future, the Ford F-150 Lightning serves as a reminder that innovation is also at the forefront of new vehicles. The electric pickup truck takes hard work and reliability to next level serving as a generator for work purposes or emergency needs. With Ford Intelligent Backup Power and Enhanced Pro Power Onboard, the all-electric Ford can provide full home power for up to three days or energy for high-powered jobs.
The Intelligent Range and FordPass™ Power My Trip, allow your new electric Ford F-150 to calculate range and factor in traffic, weather, payload, towing weight, and more to provide you with information on how much energy you are using and customize your trips. 
Intelligent Technology 
Even though Ford F-150 has always served as a performance-enhanced vehicle, the new F-150 Lightning does not short itself on intelligent technology. The 15.5-inch portrait touchscreen is the largest offered digital screen than any other full-size truck and can be used to access your favorite apps, connected navigation, cloud-based connectivity, and much more. Whether by touch or natural voice recognition, the new Ford infotainment center reigns supreme for convenience. 
Reserve Your 2022 Ford F-150 Lightning in Corbin
We welcome you to reserve your 2022 Ford F-150 Lightning at our Ford dealership in Corbin, KY. If you have any questions or would like more information on the process, please feel free to contact our team. Serving the areas near Williamsburg and London, KY areas, we hope to hear from you soon!