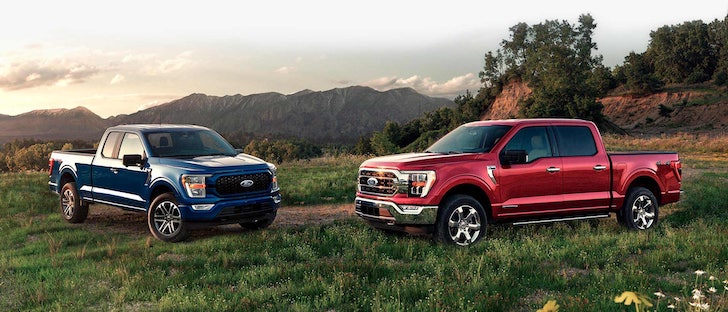 Returning for its 14th generation, the 2021 Ford F-150 receives a fresh new makeover to ring in the new year. From its already jarring silhouette to its spacious interior the 2021 Ford F-150 sees redesigns from previous editions.
Along with a redesign, for the first time, the Ford F-150 offers a hybrid powertrain. As car technology progresses, the titan truck also receives upgrades in new features for infotainment and safety.
Ford F-150s Interior and Exterior Redesign
While the Ford F-150 maintains its larger than life frame, the classic pickup truck has a new stance from the ground up. Replacing nearly every sheet metal, the 2021 Ford F-150 receives a new body frame that is slightly wider and tougher than its predecessor. Included are a new grille, headlights, and 13 different wheel designs from 17 to 22 inches. The cargo bed of the Ford truck receives new extended-length power running boards with a hands-free kick switch.
The 2021 Ford F-150 also comes in six different trim levels and several bed configurations tailored to your payload and hauling desires.
Inside the cabin, the Ford F-150 with new materials and technology features, making every drive comfortable and convenient. With a Ford infotainment center, genuine wood interior trim accents, trailer assistance technologies, and much more, you will love getting behind the wheel.
First Time Hybrid Powertrain Option
As a first-time class-exclusive, the Ford F-150 offers a 3.5L Powerboost Full Hybrid V6 engine. The all-new hybrid option allows drivers to utilize a fuel-efficient engine that still provides up to 12,700 pounds in towing capacity. Here are the all engine options Corbin drivers can choose from for the 2021 Ford F-150:
3.3-liter V6 with 290 hp and 265 lb-ft of torque
2.7-liter twin-turbo EcoBoost with 325 hp and 400 lb-ft of torque
5.0-liter V8 with 400 hp and 410 lb-ft of torque
3.0-liter Power Stroke turbodiesel V6 with 250 hp and 440 lb-ft of torque
3.5-liter twin-turbo EcoBoost V6 with 400 hp and 500 lb-ft of torque
3.5-liter PowerBoost Hybrid V6 with 430 hp and 570 lb-ft of torque
Test Drive the 2021 Ford F-150 in Corbin
If you are interested in test driving the 2021 Ford F-150, schedule a visit to Ford Legacy Lincoln in Corbin. Please do not hesitate to contact us with any questions, as we are here to help!