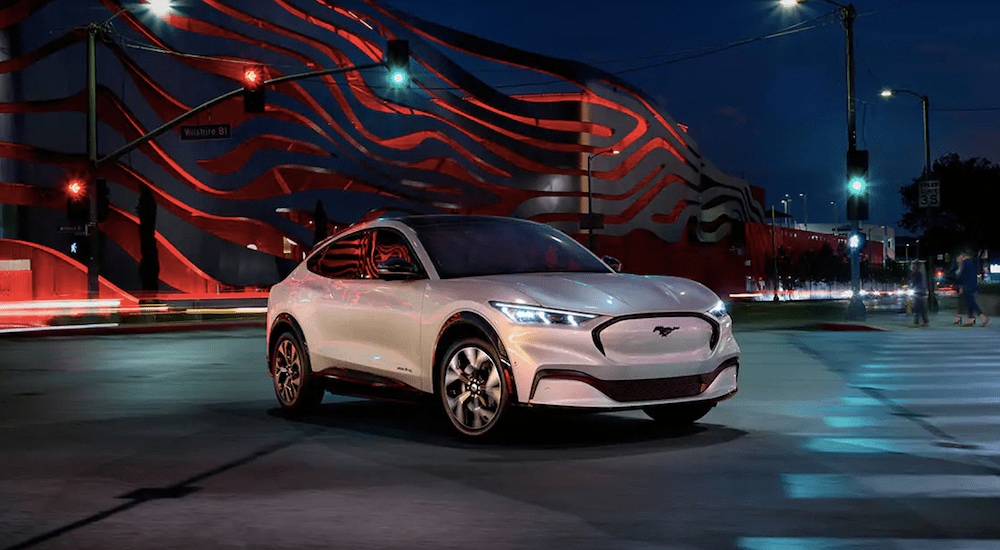 On November 17, 2019, the first all-electric SUV was officially added to the Mustang lineup.
The Ford Mustang Mach-E.
What Is The Ford Mustang Mach-E?
Set to hit showrooms in late 2020, the Mustang Mach-E will come in four models, including a limited quantity First Edition. Starting in Spring 2021, a GT Performance Edition will also be available. 
Ford anticipates the Mach-E to put out unprecedented performance for an electric vehicle. The GT Performance Edition, for instance, will target 60 miles per hour in the mid-3-second range - on par with the Porsche 911 GTS.
For the interior, Ford completely reinvented the driver interface to suit the all-electric profile of the Mach-E. The next-generation SYNC communications and entertainment system makes its debut with machine learning technology to optimize driver preferences over time. Like modern phones, the system only improves with regular over-the-air updates. Unlike modern phones, the touchscreen is a massive 15.5 inches. 
With standard and extended range battery options and either rear-wheel or all-wheel drive powertrains, the Mustang Mach-E can be customized to better suit drivers' needs. To put the capabilities in perspective, the extended range battery and rear-wheel drive configuration has a targeted EPA-estimated range of 300 miles. Thanks to the connected navigation system, drivers will be able to find up-to-date charging locations during trips and receive recommended stops to mitigate anxiety about how much range they have.
Other notable features include three unique drive experiences, a revamped Mustang appearance, and a drainable front trunk storage unit. All-in-all, the Mustang Mach-E will add an entirely different element to the Ford lineup.
Can I Reserve The Ford Mustang Mach-E?
Drivers looking to experience the never-before-driven Mustang Mach-E can make a reservation with a refundable deposit. To have your Mach-E waiting for you in Corbin, select Legacy Ford Lincoln in the reservation check out.
Interested in learning more about the Ford Mustang Mach E? Contact us at our dealer in Corbin today.