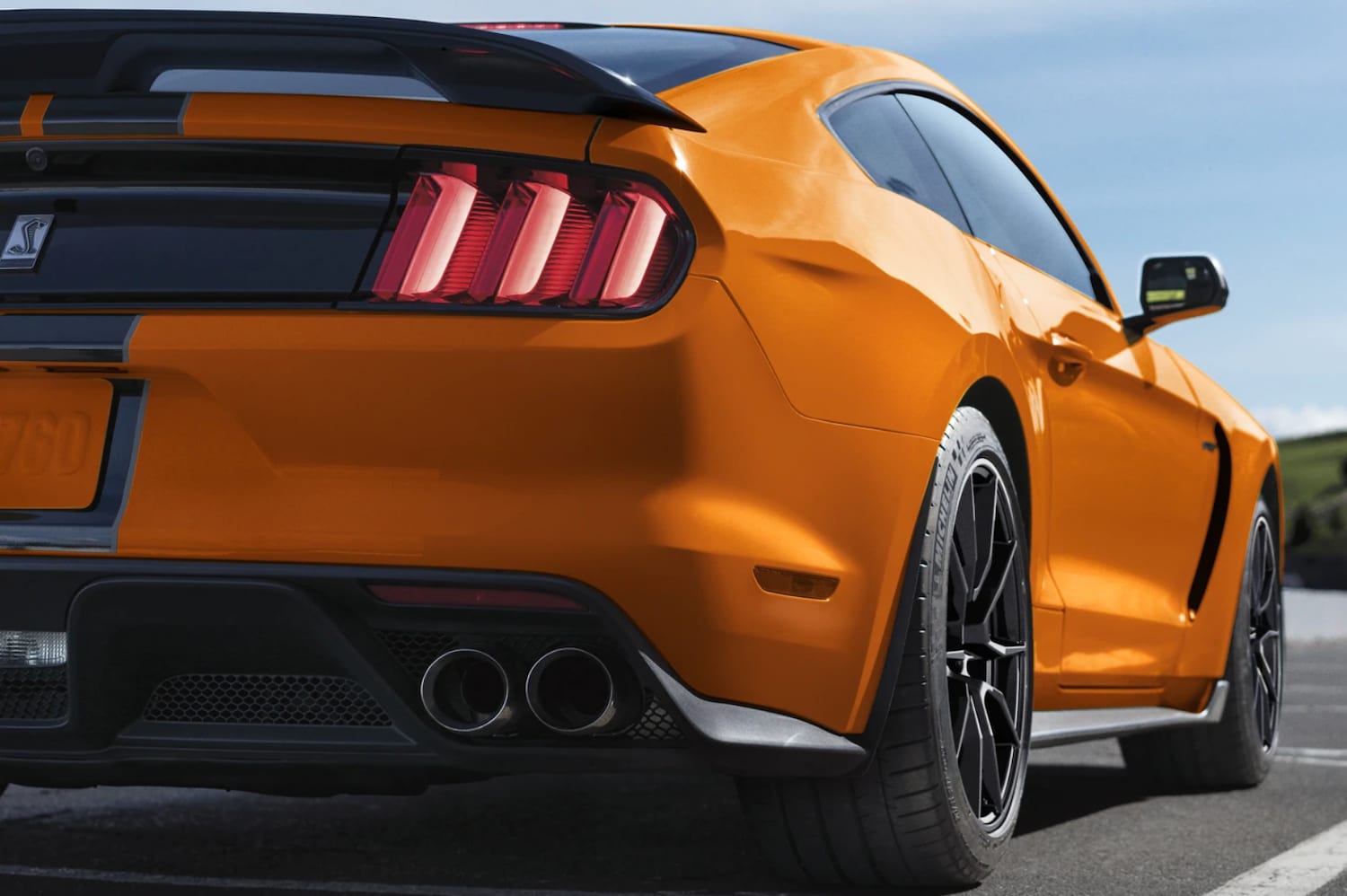 2022 Ford Mustang Trim Levels

Key Features

EcoBoost® Fastback

17" Sparkle Silver-painted Aluminum (Standard EcoBoost® Wheel) 
235/55R17 A/S Tires
Tire Inflator and Sealant kit
2.3L EcoBoost® Engine 
6-Speed Manual Transmission 
3.31 Limited-slip Rear Axle
Electronic Line-Lock (track use only) 
Independent Rear Suspension 
Launch Control 
Selectable Power-Assisted Steering (EPAS) 
Vented four-wheel disc power brakes
320 mm (12.5") front brake rotors with 2-piston calipers
320 mm (12.5") rear brake rotors with single-piston calipers

EcoBoost® Premium Fastback

18" x 8" Machined-Face Aluminum with High-Gloss Ebony Black-painted pockets 
P235/50R18 A/S Tires
Tire Inflator and Sealant kit
2.3L EcoBoost® Engine 
6-Speed Manual Transmission 
3.31 Limited-slip Rear Axle
Electronic Line-Lock (track use only) 
Independent Rear Suspension 
Launch Control 
Selectable Drive Modes 
Selectable Power-Assisted Steering (EPAS) 
Vented four-wheel disc power brakes
320 mm (12.5") front brake rotors with 2-piston calipers
320 mm (12.5") rear brake rotors with single-piston calipers
Sync® 3
Wheel and Stripe Package

EcoBoost® Convertible

17" Sparkle Silver-painted Aluminum (Standard EcoBoost® Wheel) 
235/55R17 A/S Tires
Tire Inflator and Sealant kit
2.3L EcoBoost® Engine
6-Speed Manual Transmission 
3.31 Limited-slip Rear Axle
Electronic Line-Lock (track use only) 
Independent Rear Suspension 
Launch Control 
Selectable Power-Assisted Steering (EPAS) 
Vented four-wheel disc power brakes
320 mm (12.5") front brake rotors with 2-piston calipers
320 mm (12.5") rear brake rotors with single-piston calipers

GT Fastback

18" x 8" Machined-Face Aluminum with High-Gloss Ebony Black-painted pockets 
P235/50R18 A/S Tires
Tire Inflator and Sealant kit
5.0L Ti-VCT V8 O
6-Speed Manual Transmission with Rev Matching
Engine Oil Cooler
3.55 Limited-slip Rear Axle (2.3L High Performance Package)
330 mm (13") rear brake rotors with single-piston calipers
Electronic Line-Lock (track use only) 
Independent Rear Suspension 
Launch Control 
Selectable Power-Assisted Steering (EPAS) 
Vented four-wheel disc power brakes
353 mm (14") front brake rotors with 4-piston calipers

EcoBoost® Premium Convertible

Wheel and Stripe Package
Sync® 3
18" x 8" Machined-Face Aluminum with High-Gloss Ebony Black-painted pockets 
P235/50R18 A/S Tires
Tire Inflator and Sealant kit
2.3L EcoBoost® Engine 
6-Speed Manual Transmission 
3.31 Limited-slip Rear Axle
Electronic Line-Lock (track use only) 
Independent Rear Suspension 
Launch Control 
Selectable Drive Modes 
Selectable Power-Assisted Steering (EPAS) 
Vented four-wheel disc power brakes
320 mm (12.5") front brake rotors with 2-piston calipers
320 mm (12.5") rear brake rotors with single-piston calipers

GT Premium Fastback

18" x 8" Machined-Face Aluminum with High-Gloss Ebony Black-painted pockets
P235/50R18 A/S Tires
Tire Inflator and Sealant kit
5.0L Ti-VCT V8 
6-Speed Manual Transmission with Rev Matching
Engine Oil Cooler
3.55 Limited-slip Rear Axle (2.3L High Performance Package)
330 mm (13") rear brake rotors with single-piston calipers
Electronic Line-Lock (track use only) 
Independent Rear Suspension 
Launch Control 
Selectable Drive Modes 
Selectable Power-Assisted Steering (EPAS) 
Vented four-wheel disc power brakes
353 mm (14") front brake rotors with 4-piston calipers

GT Premium Convertible

18" x 8" Machined-Face Aluminum with High-Gloss Ebony Black-painted pockets 
P235/50R18 A/S Tires
Tire Inflator and Sealant kit
5.0L Ti-VCT V8 
6-Speed Manual Transmission with Rev Matching
Engine Oil Cooler
3.55 Limited-slip Rear Axle (2.3L High Performance Package)
330 mm (13") rear brake rotors with single-piston calipers
Electronic Line-Lock (track use only) 
Independent Rear Suspension 
Launch Control 
Selectable Drive Modes 
Selectable Power-Assisted Steering (EPAS) 
Vented four-wheel disc power brakes
353 mm (14") front brake rotors with 4-piston calipers

GT Fastback

18" x 8" Machined-Face Aluminum with High-Gloss Ebony Black-painted pockets 
P235/50R18 A/S Tires
Tire Inflator and Sealant kit
5.0L Ti-VCT V8 O
6-Speed Manual Transmission with Rev Matching
Engine Oil Cooler
3.55 Limited-slip Rear Axle (2.3L High Performance Package)
330 mm (13") rear brake rotors with single-piston calipers
Electronic Line-Lock (track use only) 
Independent Rear Suspension 
Launch Control 
Selectable Power-Assisted Steering (EPAS) 
Vented four-wheel disc power brakes
353 mm (14") front brake rotors with 4-piston calipers

EcoBoost® Premium Convertible

Wheel and Stripe Package
Sync® 3
18" x 8" Machined-Face Aluminum with High-Gloss Ebony Black-painted pockets 
P235/50R18 A/S Tires
Tire Inflator and Sealant kit
2.3L EcoBoost® Engine 
6-Speed Manual Transmission 
3.31 Limited-slip Rear Axle
Electronic Line-Lock (track use only) 
Independent Rear Suspension 
Launch Control 
Selectable Drive Modes 
Selectable Power-Assisted Steering (EPAS) 
Vented four-wheel disc power brakes
320 mm (12.5") front brake rotors with 2-piston calipers
320 mm (12.5") rear brake rotors with single-piston calipers

GT Premium Fastback

18" x 8" Machined-Face Aluminum with High-Gloss Ebony Black-painted pockets
P235/50R18 A/S Tires
Tire Inflator and Sealant kit
5.0L Ti-VCT V8 
6-Speed Manual Transmission with Rev Matching
Engine Oil Cooler
3.55 Limited-slip Rear Axle (2.3L High Performance Package)
330 mm (13") rear brake rotors with single-piston calipers
Electronic Line-Lock (track use only) 
Independent Rear Suspension 
Launch Control 
Selectable Drive Modes 
Selectable Power-Assisted Steering (EPAS) 
Vented four-wheel disc power brakes
353 mm (14") front brake rotors with 4-piston calipers

GT Premium Convertible

18" x 8" Machined-Face Aluminum with High-Gloss Ebony Black-painted pockets 
P235/50R18 A/S Tires
Tire Inflator and Sealant kit
5.0L Ti-VCT V8 
6-Speed Manual Transmission with Rev Matching
Engine Oil Cooler
3.55 Limited-slip Rear Axle (2.3L High Performance Package)
330 mm (13") rear brake rotors with single-piston calipers
Electronic Line-Lock (track use only) 
Independent Rear Suspension 
Launch Control 
Selectable Drive Modes 
Selectable Power-Assisted Steering (EPAS) 
Vented four-wheel disc power brakes
353 mm (14") front brake rotors with 4-piston calipers
Available Trim Levels for the 2022 Mustang
Now available in seven different trim levels, the 2022 Mustang is continuing its legacy as a powerful muscle car. With two different convertible options the mustang has options for cruising, coasting the highways and much more. Each level offers the buyer the freedom to choose how many extra features and accessories they want. In addition to different levels, packages are available to take each model to the next level. 
While each level offers a variety of features, the 2022 Mustang has several features that are maintained across the board. Standard in all models, Track Apps® utilizes the instrument cluster to display performance metrics.
Keeping with the power expected of a Mustang each level comes with three different Electric Power-Assisted Handling. 
Comfort: requires the least amount of effort while steering
Normal: provides some steering ease while still giving the driver control 
Sport: gives the most connection to driving and requires the most steering effort
Test Drive a Ford Mustang in Corbin
If you are ready to get behind the wheel of a new Ford Mustang, come down to Legacy Ford to test drive one today! If you have any questions please feel free to contact us online. The Legacy Ford team is here to serve auto shoppers in London, Corbin and Williamsburg, KY.